The regulatory role of prostaglandin E2in liver (patho) physiology is controlled at its site of synthesis and its action on the receptors
Comparative Hepatology
2004
3(Suppl 1):S35
Published: 14 January 2004
Keywords
Nitric Oxide
Liver Fibrosis
Kupffer Cell
Eicosanoid
Stellate Cell
Introduction
Among the hormone class of the eicosanoids, PGE2 plays a predominant role in liver (patho) physiology. Liver-specific responses, like regulation of blood glucose homeostasis, sinusoidal blood flow within the liver, properties of the transendothelial barrier within the liver, synthesis and release of important other mediators like cytokines, growth factors or nitric oxide, and liver fibrogenesis have been shown to be mediated or regulated by PGE2 [1]. Within the liver, the main producers of PGE2 are the Kupffer cells. The synthesis of PGE2 in Kupffer cells is controlled at multiple levels. The action of PGE2 on its target cells is mediated by 4 classes of PGE2 receptors (EP1, EP2, EP3, EP4). Each of these receptors converts the information of PGE2 by different intracellular signal pathways to a specific cellular response [2].
Methods
Liver nonparenchymal cells (endothelial cells, Kupffer cells, stellate cells) are isolated from male rat livers by a pronase/collagenase perfusion. Experiments are performed with cells kept in primary cultures [1].
Conclusions
PGE
2
, produced by Kupffer cells, is a potent physiological suppressor of liver fibrosis (Fig.
6
).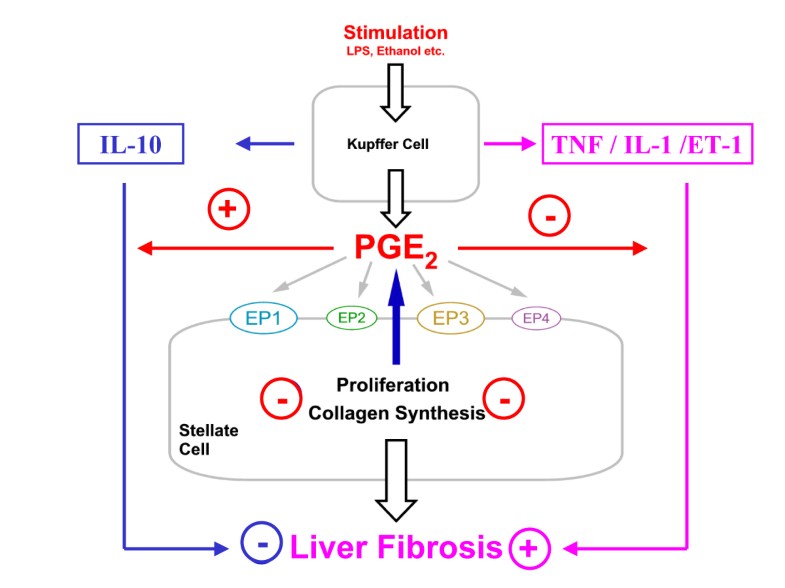 Authors' Affiliations
(1)
Institute of Physiological Chemistry, Medical Faculty Carl Gustav Carus, TU Dresden, Dresden, Germany
References
Dieter P, Scheibe R, Télzer S, Kamionka S, Kolada A: Prostaglandin E2, an important regulator in (patho) physiological liver functions. In: Cells of the Hepatic Sinusoid. Edited by: Wisse E, Knook DL, de Zanger R, Arthur MJP. 1999, Leiden, Kupffer Cell Foundation, 8: 6-10.Google Scholar
Fennekohl A, Segi E, Sugimoto Y, Ichikawa A, Péschel GP: Parallel action of EP2 and EP4 receptor for the prostaglandin E2-mediated feedback inhibition of the LPS-induced TNF-alpha formation in mouse Kupffer cells. In: Cells of the Hepatic Sinusoid. Edited by: Wisse E, Knook DL, de Zanger R, Arthur MJP. 2001, Leiden, Kupffer Cell Foundation, 8: 11-14.Google Scholar
Copyright
© Dieter et al; licensee BioMed Central Ltd 2004
This article is published under license to BioMed Central Ltd. This is an open access article distributed under the terms of the Creative Commons Attribution License (http://creativecommons.org/licenses/by/2.0), which permits unrestricted use, distribution, and reproduction in any medium, provided the original work is properly cited.